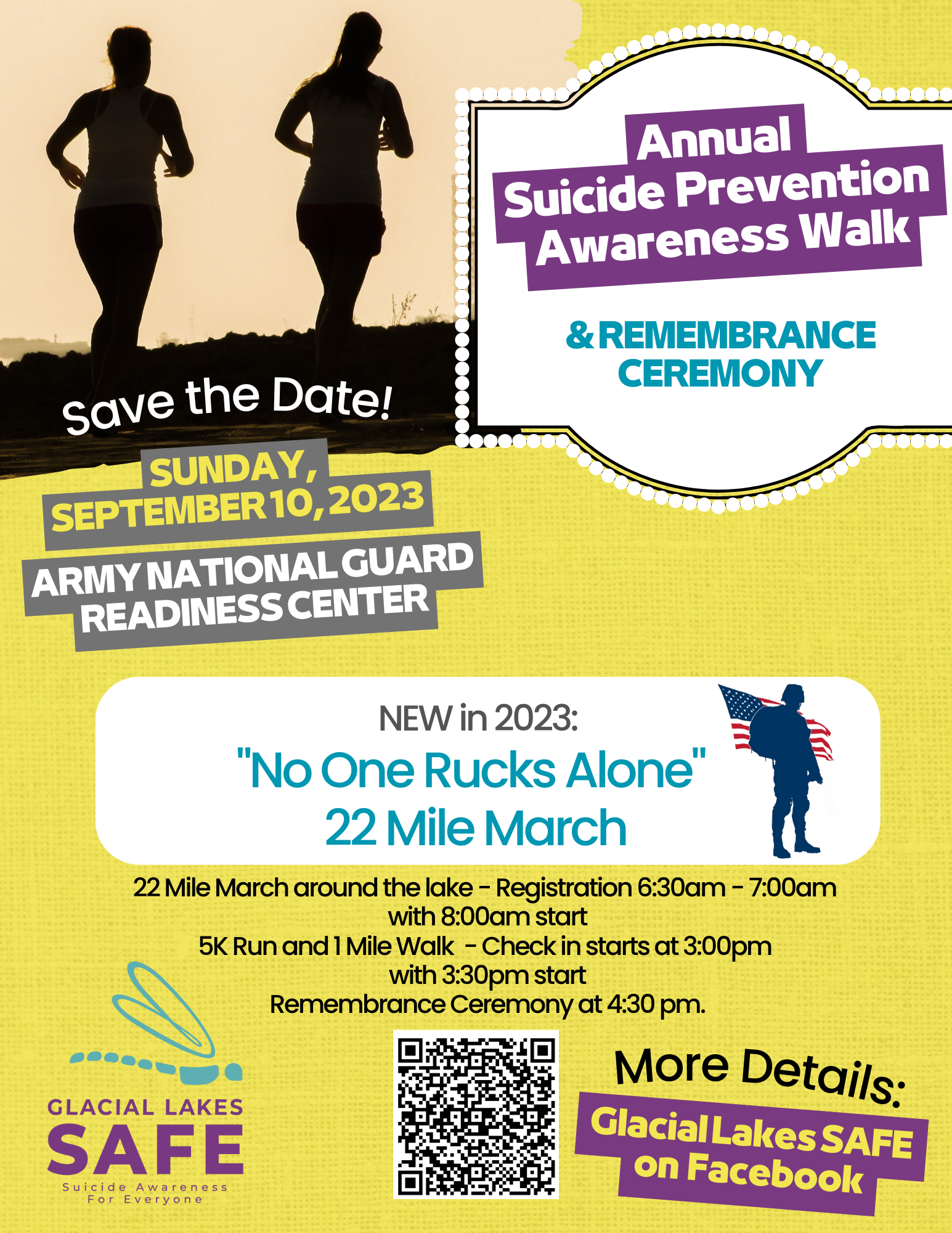 Glacial Lakes SAFE annual Suicide Prevention Awareness 5K & Remembrance Ceremony
September 10, 2023 / 3:00PM-5:30PM
Family Friendly
Walk or run. Say their name. Share their stories. Wear the colors. Wear the shirts. Remember your loved one. No one Rucks Alone. There's HOPE…
This year the SD Army National Guard and Glacial Lakes SAFE coalition are partnering to increase the awareness and support of suicide prevention.
This is a FREE event for all ages to join together to learn more about suicide awareness, and most importantly, open the dialogue about suicide with the purpose of bringing healing and hope to all who participate. NEW this year, the National Guard is organizing a 22-mile Ruck March in the morning beginning at 8am to represent the 22 veterans who die from suicide each day. Glacial Lakes SAFE will be organizing the annual 5K run and mile walk in the afternoon. The walk/run event will begin with a 3:00pm check in and starting at 3:30. Then our HOPE is for everyone (whether you march, run, walk or are a support person) to come together for the Remembrance Ceremony at 4:30pm.
* There will be a Remembrance table – so please bring a picture or something to share of your loved one.
* There will be tables with local resources, Memory cards, and keepsake of this year's event.
* There will have photo area for groups, families, and individuals.
Refreshments will be provided. For more information check out GlacialLakesSAFE facebook page and share with others.